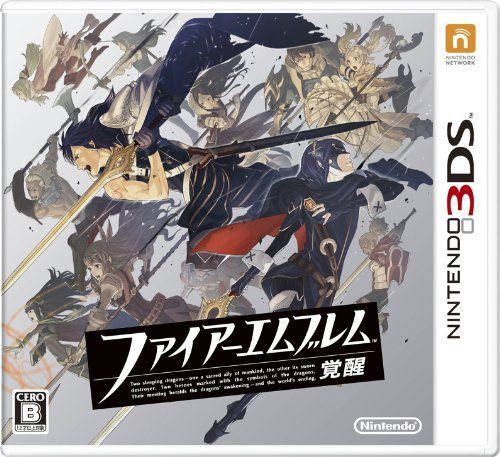 Fire Emblem: Awakening
Just 6 chapters in and already I can feel a strong urge to recommend this to all of my friends (you guys) out there. Truly one of the finest Fire Emblem titles to grace our Western shores, and the critics seem to agree, scoring the highest of all NA released Fire Emblems thus far. So what do I like about it so much that I had to take some time to stop to tell you about it? Well, let's take just a quick look:
So you've never played a Fire Emblem game before, but you were always intrigued by these "Marth," "Roy," and "Ike," characters (by the way, before anyone asks, yes, all three are in this game
as DLC
, a first for the franchise, so SHUT UP!!) and want to take a look. You probably read up on how it is a turn based tactical strategy RPG. Sounds like it might be a bit complex, no?
No worries. The tutorial here is pretty well done without infringing too much on the action for those who are more seasoned players. Usually, whenever a new mechanic is introduced (for example, engaging the enemy), the characters will briefly talk about it and then a full fledged tutorial appears on the bottom screen, but doesn't disrupt the action on the top screen at all. For newer players, this means that you can read as you play so that you understand the mechanics while doing them. After all, you learn best by doing, not watching. And for older players, it doesn't really get in the way of the action all that much and is easy to ignore.
Sounds easy enough, no? Oh, but maybe you were put off by the whole "every death is permanent" rule that makes Fire Emblem so famous. Most people I find are put off by that since that means you could potentially lose someone who is very important to you, both tactically and sentimentally.
Well, to help ease the newcomers into play, a "casual mode" has been introduced for you, where none of the deaths (save for the main character since they're important and dying just results in a Game Over) are permanent. They are just out for that battle, but are right as rain the next time. So if you feel you're probably make too many mistakes your first time and this is what held you off from ever trying the game, maybe this will convince you to give it a go
The writing has greatly improved here too. Fire Emblem has always been heavy on story so you would expect the franchise to have some fairly decent writing, and for the most part, the games do have some pretty good plots. But I always felt that the localization team was playing it too "safe", if you follow. Like, they didn't know who exactly to market it, but since some kids knew Fire Emblem through Melee, maybe they should write it just in case they're reading.
Awakening, however, seems to have settled on the fact that, you know, this is tactical warfare! No more sugar-coating this stuff. The adults actually talk like adults here rather than playing down to a younger audience. It's good to see Nintendo has got at least something in their log that is considered "mature" here.
As for the voice acting, I think you can forgive me for being skeptical after
what I've put up with in Path of Radiance.
Don't get me wrong, I still love that game, but wow... Who was Ike's voice teacher? Mist isn't any better either. Not to mention all the other games on Nintendo platforms with voice acting made me wish they never include it in any of their games ever again.
But here, with Awakening...they are finally showing some honest to goodness confidence. I suppose this is a carry over from Kid Icarus, which also had some fairly good acting. Of course, it helps to hire some actually good actors, as is the case here with names like Matthew Mercer, Kate Higgins, and Travis Willingham appearing in the credits. More of this, please.
The visuals are fairly decent, especially the sprite work. Though really, what is with their tiny feet? This is an irksome that's easily ignored but it was an odd design choice. At least the animated cutscenes are a wonder to behold, as they have been since PoR's reign (acting was atrocious, but at least the visuals impressed). Lots of colour and great expressions all around.
Soundtrack is of stellar quality as always. No need to go deeper than that.
The tactical system is just as I always remembered. You recruit various units, each with their own pros and cons, and level them through individual turn-based battles. How you go about each fight determines whether you are a supreme tactician or a poor one. Weapon choice, terrain buffs, allies near you... All these vary the outcome of the ensuing battle against your foe.
But that's all we've seen before. What does Awakening bring to the table that's all new?
For one, fighting next to someone no longer needs the famous Support system (though it is still in the game and does still grant great buffs) as now anyone can help anybody in battle, regardless of how they feel about them. And they do more than, say, increase the accuracy of their comrade's sword attack. Sometimes, they can even pitch in and deal the death blow to the enemy, giving both fighter's some EXP. Even better, they can even pair up, essentially letting you move two units at once, appointing one as a leader, letting you change who will charge into battle at a moment's notice.
Sometimes, random events can happen on the main map if you choose to persuade them. Being able to rebattle in old battlegrounds against low-level random foes for extra EXP is certainly a nice touch if you're struggling, and the skill system really brightens up the battlefield quite a bit with just a touch more depth. Other times, helpful merchants with fantastic deals will pop around and are always good to check it out.
And really, overall, everything just feels so much smoother and polished. Fire Emblem is really stepping up its game and moving the franchise in a direction that makes it more accessible to newcomers while still feeling fairly fresh for the older crowd too. I say you owe it to yourselves to check this game out on your 3DS.
Consider this post your recruitment.